This website is dedicated to the French Renaissance poet Clément Marot (Cahors 1496 - Turin 1544). Why? Because he deserves a 'monument'.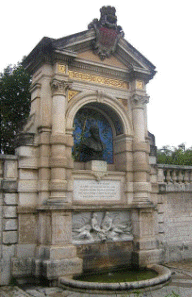 Okay, there is one in his native town, Cahors (Fr), a late 19th Century fountain with a beautiful buste of Marot against a nicely made stone mosaique (for more pictures of Marot: see picture gallery). Below this buste (made by Jean Turcan) part of Marot's poem l'Enfer is carved out in marble, in which he celebrates his native town and sings about the Lot and Garonne (two rivers that join in Cahors). This excerpt you can read here. And yes, there was one - I mean a monument - in Turin, in the form of an epitaph (poem) by his friend Lyon Jamet engraved in marble in the Turin Cathedral. It was wiped out, removed, destroyed in 1574/5 because the Bishop of Turin could not allow that anything in his church reminded the people of this 'heretical' French poet [see article]. A little later the holy shroud arrived...
The most important monument however he created himself: his poems. A selection will be successively published on this website (with translations into English, and if available into Dutch) . Even after almost five centuries his poems deserve to be read. They can touch you, a number of his chansons go right into your heart, and some of his rhymed epistles written in exile simply move you; and of course: his Psalm versifications, they are not sung today anymore, but they gave the impetus to the singing reformation of John Calvin and inspired so many composers in the 16th century.
BTW, you can read a short biography following this link
Above all: enjoy...