Le bonheur de ce monde

Best wishes ["how to live well and be happy"] by Marot

[imitating Martialis, of course -- translated by Richard Fanshaw
& inspiring Christophe Plantin to a French sonnet, translated into Dutch by Ward Ruyslinck
also available on this website; and - Dutch - by Roemer Visscher, & Lukas D'heere]

De soi-même

Marot, voici (si tu le veux savoir)
Qui fait à l'homme heureuse vie avoir:
Successions, non biens acquis à peine,
Feu en tout temps, maison plaisante, et saine,
Jamais procès, les membres bien dispos,
Et au dedans, un esprit à repos,
[Contraire à nul, n'avoir aucuns contraires,
Peu se mêler des publiques affaires,]
Sage simplesse, amis à soi pareils,
Table ordinaire, et sans grands appareils,
Facilement avec toutes gens vivre,
Nuit sans nul soin, n'être pas pourtant ivre,
Femme joyeuse, et chaste néanmoins,
Dormir, qui fait que la nuit dure moins,
Plus haut qu'on n'est ne vouloir point atteindre,
Ne désirer la Mort, ni ne la craindre:
Voilà, MAROT, si tu le veux savoir,
Qui fait à l'homme heureuse vie avoir.

Martialis: Ad seipsum


Vitam quae faciant beatiorem,
Iucundissime Martialis, haec sunt:
Res non parta labore, sed relicta;
Non ingratus ager, focus perennis;
Lis numquam, toga rara, mens quieta;
Vires ingenuae, salubre corpus;
Prudens simplicitas, pares amici;
Convictus facilis, sine arte mensa;
Nox non ebria, sed soluta curis;
Non tristis torus, et tamen pudicus;
Somnus, qui faciat breves tenebras:
Quod sis, esse velis nihilque malis;
Summum nec metuas diem nec optes.
[Liber X,47)

English (Sir. Richard Fanshaw)

The things that make a life to please
(Sweetest Martial), they are these:
Estate inherited, not got:
A thankful field, hearth always hot:
City seldom, law-suits never:
Equal friends agreeing ever:
Health of body, peace of mind:
Sleeps that till the morning bind:
Wise simplicity, plain fare:
Not drunken nights, yet loosed from care:
A sober, not a sullen spouse:
Clean strength, not such as his that plows;
Wish only what you are, to be;
Death neither wish, nor fear to see.
Sir Richard Fanshaw.
And this is what Christophe Plantin made of it: a beautiful sonnet, printed with a "Garamond"..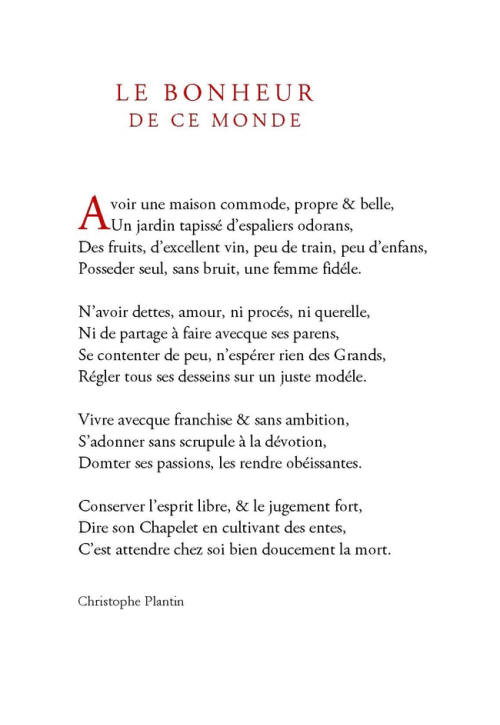 Translated into Dutch by Ward Ruyslinck:
Het werelds geluk

Een schoon en fleurig huis, een tuin met ranken langs de muren, een beker flonkerende wijn en vruchten in de schaal,
geen al te talrijk kroost, geen last en geen schandaal,
een trouwe vrouw die helpt het huisgezin besturen.

Noch schulden noch gedingen noch geschillen met je buren,
om have en om erf geen zorg en geen kabaal,
en zonder hoge voorspraak, zonder nijd om de rivaal,
je zedelijke kracht uit een bezonken inzicht puren.

Geen waarheid schuwen, voor geen zwarigheden zwichten,
je zonder schroom, in godsvrucht, onderwerpen aan je plichten, je driften meester blijven en ze richten naar je wil.

Je vrijheid bewaren, in geweten en gedachten,
je ziel tot God verheffen in gebed en vreedzaam, stil,
in eigen huiselijke kring de dood afwachten.

Ward Ruyslinck
[pseudoniem van Raymond De Belser. Vertaling gemaakt in de jaren 1960 op verzoek van Leon Voet, toenmalige conservator van het museum Plantijn-Moretus]