portrait of a man (attrib. to Corneille de Lyon)
Louvre Museum. Generally accepted that it is Marot. He was in Lyon at the right time (prob. 1536-1537) and frequented the same people as Corneille.

Clemens Marotius primus sui temporis poeta gallicus - La mort ny mord
(René Boyvin)
Earliest date of this engraving (Bentley Cranch): Antwerp, Hieronymus Cock, 1558, in a book commemorating the victories of Charles V. [odd, was not able to verify, in the 1556 edition it is not present]. Should be on folio 62-recto
Not signed.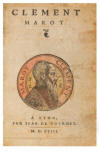 Frontispice on Jean de Tournes 'Oeuvres' since 1558
The image is very similar to Boyvin and/or Beze portrait.
Inside the medaillon are the letters LM NM: La Mort Ny Mord

Clemens Marotus Cadurcus (Boyvin 1572)
very similar to previous but with other attributes (laurel = the classical poet). From "Virorum Doctorum de Disciplinis benemerentium Effigies XLIIII" (1572b); engraver Philips Galle (Antwerp); below a quatrain by Benito Arias Montanus :"Gallorum Vate[m] qui... vertere et superas". Philips Galle used existing paintings/engravings. The fact that Marot's name is in a caption above is unique for this publication.

Clemens Marotius poeta gallicus (Boyvin, 1576)
same as previous, but with different text. Above: La mort n'y mord. (BNF Cabinet des Estampes).
signed RB


Clemens Marotius poeta gallicus (Boyvin, 1576)
Same as previous, but flipped.
signed RB

Clement Marot (lead)
Cast lead medal
Bust of Clement Marot right, laureate and wearing classical dress. After: René Boyvin, 17thC

N.N., Clement Marotus Francus Poeta Prim.
Postcard of the Portrait (oil on canvas) in Museum of the Reformation (Geneva - Tronchin bequest), supposedly once in the possession of Th. de Bèze. [De Bèze's adoptive granddaughter married a Théodore Tronchin]. Is this painting the basis of René Boyvin's engravings ?

Clément Marot (Vrais Pourtraits - 1580/1581)
Portrait next to the short biography dedicated to Marot in Beza's 'Icones' (or portraits). It seems to be based on the painting, supposedly owned by De Bèze (Tronchin bequest).

copy of a lost original by Holbein? (1754)
Quite popular, but not certified at all that this is Marot, nor that it is Holbein's.

Marot painted as if wax (grisaille)
Abel de Pujol Alexandre-Denis (Louvre, room B egyptian antiquities): Among the notable men of the Renaissance:
Portrait of a man, G.Moroni (?) - Museum of Protestantism Geneva.
Questionable. The painting is attributed to Moroni (b. 1520/5). Marot was in Italy twice: 1536 (Moroni was still teenager) or 1544 (Marot in his late forties). The man looks younger.

buste of Marot (1885)
bronze, Museum of Cahors Henri-Martin, by Jean Turcan (1846 Arles - 1895 Paris).

Marot at the fountain in Cahors
Monument erected in the 19th century and restored in 1996: 500th anniversary of Marot. The buste is a copy from the bronze in the museum

Clement Marot ('médaille', 1572)
In G. Rouillé (or Roville), Promptuaire des Médailles, p. 251. Immensely popular and influential.

Marot (Théodore de Bry - late 16th century)
Fantastic imagery (Jupiter-like), prob. based on the medaillon in Roville's book. "POETA CLEMENS MAROTVS CHAORSIVS/ Anté rudis, per te, calamos inflante Thaleia,/ Edidivit dulces Gallica lingua modos,/"

1996 (Marot and his King)
painting by an artist from Cahors, Christian Verdun, contributing to the 500th anniversary, based of course on Corneille de Lyon and Clouet.

Clem. Marot (unknown 'artist')
Museum of the Reformation in Geneva. Unknown provenance: the 'gloomy broodiness' (Bentley Cranch) is probably due to mediocre craftmanship.